Beale Park (near Pangbourne) Family fun on the water
Book Paddleboarding and Open Water Swimming at Beale Park, Pangbourne.
Winter opening – We are now closed for winter re-opening in April 2022
Stand Up Paddleboarding– £17.50 per person per hour (ages 8 plus)
Own Paddleboard use on the Lake £10.00 per board (2 hour Sessions) bookable on link above (buoyancy aids must be worn)
Paddleboarding – Important Note – All minors must be accompanied by a responsible adult (18+ years) who must either accompany the participant or remain at the lake side throughout the session.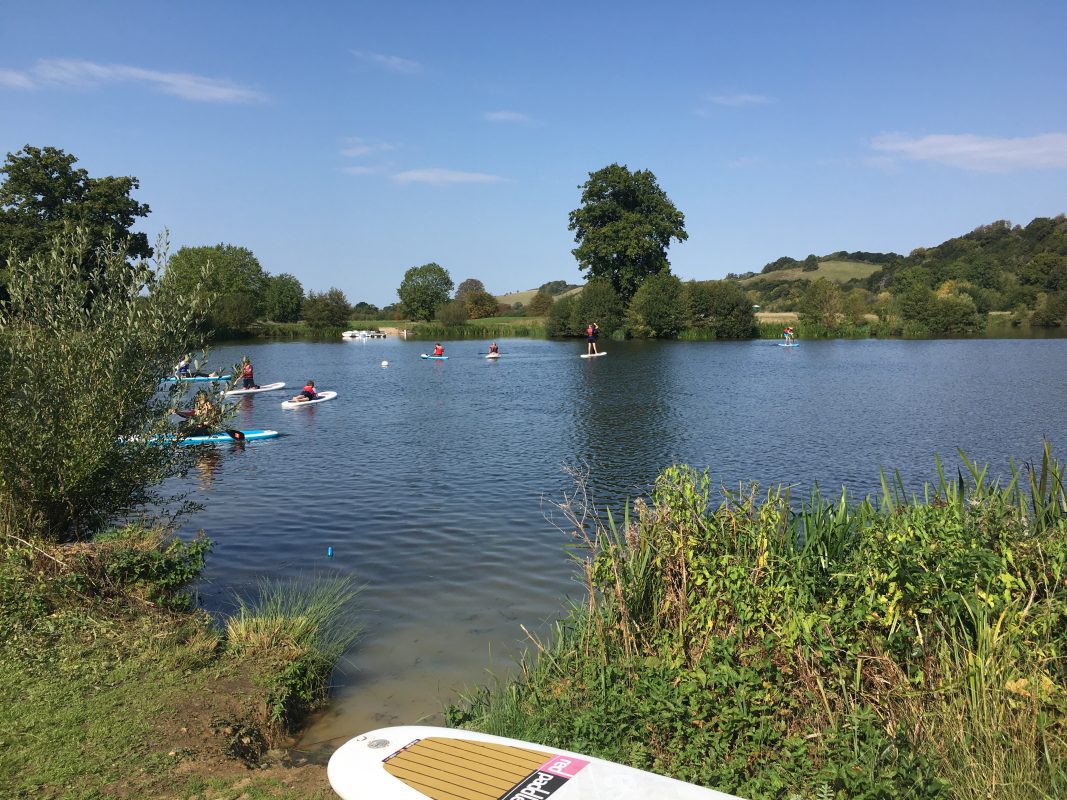 Stand Up Paddleboards – Suitable for ages 8 plus with younger children (age 5 plus) being able to go out on their parent's  board – a great family activity.
Hire price includes a buoyancy aid for every participant, and these must be worn while on the water.
All participants must be able to swim at least 25 metres.
Open Water Swimming
Hi5@beale open water swimming is a   NOWCA partner venue using the latest timing and safety management system. You will need to join NOWCA to swim @ Beale Park – dates and swim times can be found on the booking app
Please find a step-by-step guide on how to sign up to NOWCA:
1) Register as a NOWCA Customer –
Click on the following link and remember to select Hi5@Beale Park as your venue to pick up your personal membership wristband:
2) Download the ACTiO App to book your swims –
Once complete, use the same email address and password to login to the booking app so you can book and pay for your swim.
The links are below: https://nowca.org/actio-app/
*If you don't have a smart phone please use the ACTiO App Browser Version: https://actio.nowca.org/root/home
Beale Park Open Water Swimming Price:
All swims are pre-bookable via Actio only.
£7.00 per individual swim
£60 for a book of 10 swims
FAQ's
1 Do you have free parking?
Yes  – park in the main car park and look for the signs to the lake.
2 Can I bring my pet?
Yes – well behaved dogs on a lead are welcome in the lake area of Beale Park.
3 Do you provide lessons?
No we only operate a hire service, but we will give you tips on how to get going safely on the water.
4 What should I wear?
Swimming costume, we will supply you with a buoyancy aid.
5 What if the weather is bad?
Please call us and we can re-arrange. We will not run sessions in high winds, thunder or lightning or in heavy rain.
6 Do I have to pre-book?
Yes we only operate on a pre-booked and pre paid basis, book online link above.
7 Is entry into the Wildlife Life Park included?
Beale Park provide free parking for our lake experiences, but entry into the wildlife park is an additional cost – see www.bealepark.org.uk
8 Can i book in and use my own board
Yes , you can use your own board cost is £10pp and only available during our fixed sessions – please call to book in 01189 567556