Beale Park (near Pangbourne) Family fun on the water
Book Paddleboarding and Open Water Swimming at Beale Park, Pangbourne.
Stand Up Paddleboarding– £18.00 per person per hour (ages 8 plus)
Own Paddleboard use on the Lake £10.00 per board (2 hour Sessions) bookable on link above (buoyancy aids must be worn)
Paddleboarding – Important Note – All minors must be accompanied by a responsible adult (18+ years) who must either accompany the participant or remain at the lake side throughout the session.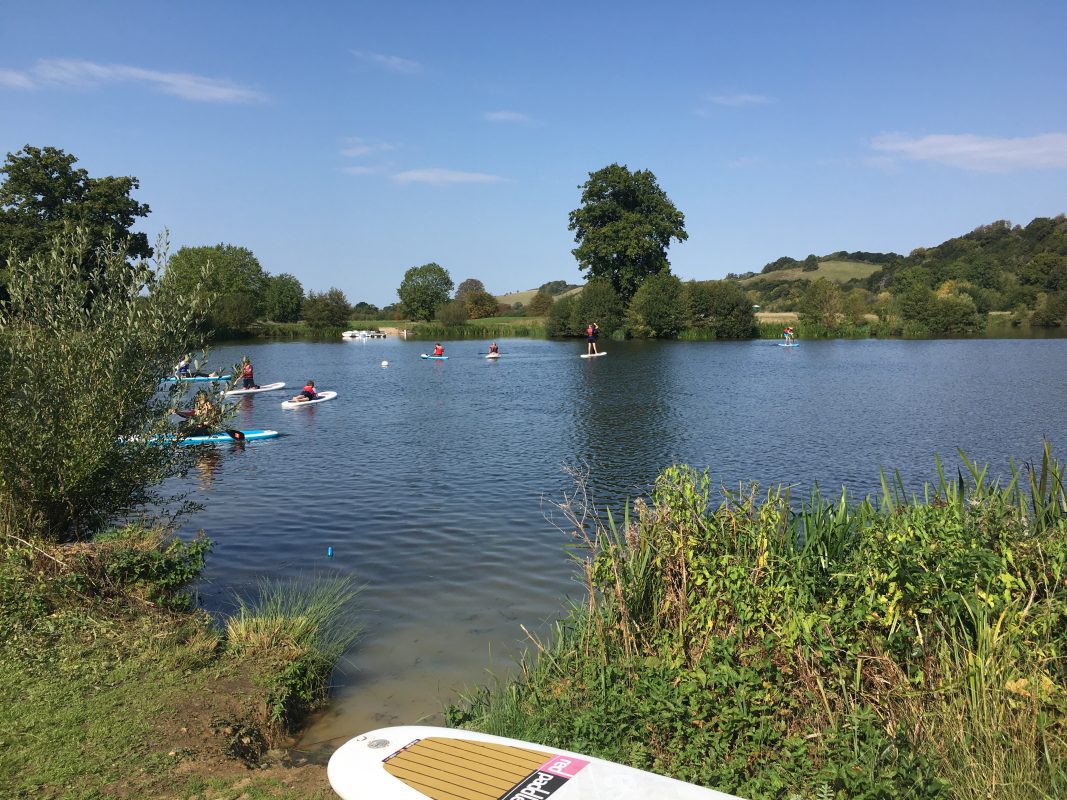 Stand Up Paddleboards – Suitable for ages 8 plus with younger children (age 5 plus) being able to go out on their parent's  board – a great family activity.
Hire price includes a buoyancy aid for every participant, and these must be worn while on the water.
All participants must be able to swim at least 25 metres.
Open Water Swimming
Hi5@beale open water swimming is a   NOWCA partner venue using the latest timing and safety management system. You will need to join NOWCA to swim @ Beale Park – dates and swim times can be found on the booking app
Please find a step-by-step guide on how to sign up to NOWCA:
1) Register as a NOWCA Customer –
Click on the following link and remember to select Hi5@Beale Park as your venue to pick up your personal membership wristband:
2) Download the ACTiO App to book your swims –
Once complete, use the same email address and password to login to the booking app so you can book and pay for your swim.
The links are below: https://nowca.org/actio-app/
*If you don't have a smart phone please use the ACTiO App Browser Version: https://actio.nowca.org/root/home
Beale Park Open Water Swimming Price:
All swims are pre-bookable via Actio only.
£7.00 per individual swim
£60 for a book of 10 swims
These are short term moorings with a maximum stay of 48 hours, these are on a first come first serve basis (for groups/clubs of more than 6 boats please contact us in advance sales@hi5events.com
A charge of £10 per 24 -hour period will be made.
This is refundable against entry into Beale Wildlife Park, or against any Hi5 activities on Otter Lake in the Beale Park grounds.
Please pay at the café by the lake adjacent to the main car park and collect your voucher – open 10-5pm daily during the summer months – April to September – for enquiries at other times please call 0118 9394709
There are 19 numbered moorings located adjacent to the park upstream from the lake bridge, please only moor opposite a number.
Beale Wildlife Park does not provide:
Electric hook up
Waste disposal – please take all rubbish away with you
Chemical toilet disposal or pump out
Water
Mooring posts
The moorings are next to a public right of way – please do not obstruct this.
Please do not damage the bank – including use of open fires. Please use barbeques considerately so that they do not cause damage to the moorings.
FAQ's
1 Do you have free parking?
Yes  – park in the main car park and look for the signs to the lake.
2 Can I bring my pet?
Yes – well behaved dogs on a lead are welcome in the lake area of Beale Park.
3 Do you provide lessons?
No we only operate a hire service, but we will give you tips on how to get going safely on the water.
4 What should I wear?
Swimming costume, we will supply you with a buoyancy aid.
5 What if the weather is bad?
Please call us and we can re-arrange. We will not run sessions in high winds, thunder or lightning or in heavy rain.
6 Do I have to pre-book?
Yes we only operate on a pre-booked and pre paid basis, book online link above.
7 Is entry into the Wildlife Life Park included?
Beale Park provide free parking for our lake experiences, but entry into the wildlife park is an additional cost – see www.bealepark.org.uk
8 Can i book in and use my own board
Yes , you can use your own board cost is £10pp and only available during our fixed sessions – bookable on the sports booker website at the top of page.