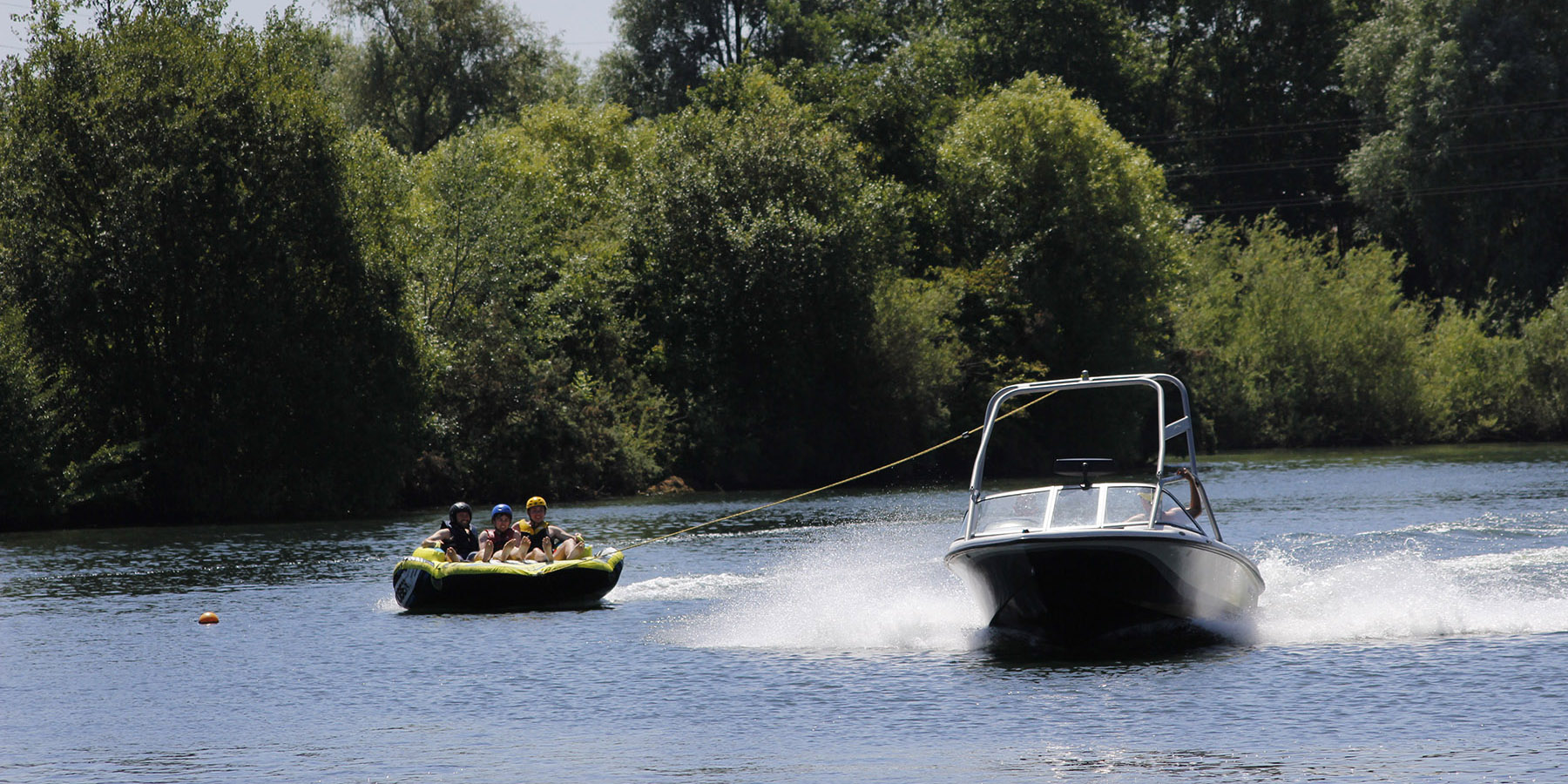 Kids Parties
Party activities for kids in Berkshire
Hi 5 offer a range of water and land based Kids party activities at our Reading Lake venue in Berkshire, situated 5 minutes from Junction 11 of the M4 near Burghfield at our 50 acre lake facility.
Whether you're looking to book land based activities for all year round or water based activities from April to October, we are the company for you. Also, to book any of our land or water based activities children must be the age of 8 or older. We want to ensure you that our party activities for kids in Berkshire will make you want to come back again.
Kids Parties Costs
Banana & Ringo Rides behind the boat – £160.00 per hour (max numbers no more than 12 kids per hour) Min age of 7 years old
For larger groups you can combine with other activities
Land Based Activities – Duration 45 minutes per activity
Sumo Wrestling
Human Table Football
Min 10 kids -1 activity – £85.00 – 2 activities – £160.00
Booking – Please call or email to check on available dates, or fill in the online enquiry form
Tel 01189 567556 – sales@hi5events.com
Booking party activities for kids in Berkshire at Hi5 Ski School has never been more exciting! We ensure that your children will have a productive day and a party to remember. Here is some information on what we can offer you:
Packages – We many offer packages and tailor them to suit your needs, please call us to discuss other options. Opening times for land based activities are available all year round, 7 days week.
Water based activities – April to October – 7 days weeks from 10 am on the day. Please arrive 15 minutes prior to any water sports and land based activities.
Weather – We can operate in most conditions and have shelters in case of the rain. In the event of lightening, we will stop all water based activities until it stops.
Numbers –For land based and water activities, a minimum of 10 kids. With the banana rides, we suggest up to 12 kids.
Ages – For water and land based activities children must be 8 years old but this does depend on the group and previous experience. We do have individual children which start waterskiing from the age of 4.
Safety Equipment – We provide helmets, buoyancy aids and wetsuits for water based activities, please remember to bring a towel.
Booking Procedure – Please call or email us with your date and time and fill in the booking form below. Once the date has been confirmed we will require a small holding deposit, full payment can be then made on the day of activities.
Cancellation Policy – You can cancel your booking up to 10 days prior to the event and we will refund your deposit.
Food & Drink onsite – Your are welcome to bring a picnic or we can supply hot food from Reading Lake which is based on site, we don't allow groups to bring their own BBQs onsite.
Supervising Children – Under 16's must be supervised by an adult onsite at all times. Spectators are welcome and can sit in the boat to watch.
Pre-existing medical conditions – Hi5 staff are not medically qualified and so are not in the position to assess the capacity of participants for activities, we advise you to contact your doctor if you suffer from any existing injuries that may be affected by physical exercise.
Insurance – Hi5 hold public liability insurance cover for 2 million pounds.
Exclusive Site Hire – Please call to discuss your requirements.
Here at Hi5 Ski School, we aim to provide exciting kids party activities in Berkshire at a beautiful venue which overlooks a stunning setting. For more information on booking our land or water based activities, call us on 01189 394 709 and one of our friendly, professional team members will be more than happy to help. Furthermore to say, that Hi5 Ski School is one of the leading providers of Berkshire water sports events.